Everest Base Camp Adventure treks 2023/2024
Everest Base Camp Adventure treks  is one of the high challenging trek s and around Himalayan range around At least eight of the world's 14 highest mountains including Everest are located in Nepal and mountain tourism is one of the backbones of Nepal's economy. According to the Kathmandu Post report, every year the government alone earns around $4 million by issuing Everest climbing permits. Those funds not only help the government but also support local locals, guides, donkey. luggage porters, hiking agencies, hotels, lodges.
The Everest Base Camp trek on the south side, at an elevation of 5,364 m (17,598 ft), is one of the most popular trekking routes in the Himalayas in Nepal and about 40,000 people per year make the trek there from Lukla airport.  The Everest, the world's highest mountain at 8,848 meters, lies on the border between Nepal and the Chinese region of Tibet. Being the highest mountain in the world, it is the ultimate dream of every climber. In 2021, Nepal issued a record 381 permits for Mount Everest which led to traffic jams as people waited in line to climb as like 2019.
But now the Nepal tourism board has decided to suspend trekking permits to all areas from 20 March until further notice due to the COVID19 outbreak. However, this decision to stop all climbing expeditions has delivered a blow to the local communities whose economic livelihoods rely on trekking and mountaineering tourism. Likewise, Nepal trekking and climbing companies are also affected by COVID 19 outbreak in 2022. All peaks climbing permit has been suspended for spring in 2020. It impacts the Nepal tourism industry and loses billions of dollars of foreign income as the tourism and foreign remittance are the backbones of the Nepalese economy.
To stop the spread of the pandemic, the government of Nepal has taken some precautionary steps by stopping international flights, stopping issuing on-arrival visas, and closing its border with China and India. Everest base camp trek is the main transit for the Everest reason trek and it has different trekking routes via Everest base camp. Due to awareness and danger spreading of coronavirus, all Hotels in Namche Bazar around the Everest reason are also closed from 20 March 2020 onwards until the next notice. 
There is a saying that "prevention is better than cure" So we are well aware of the health of our valued clients and put their safety and well being on top. Let's continue to keep social distance, let's adopt safety measures, and certainly, we will get the results we are hoping for. Hope this hard time will pass soon so we can again welcome you all in the land of Everest and natural wonders.
Will see you next season in 2020 in Nepal. 
Want to explore more about Everest Base Camp Trekking? 
And preparing to travel to Nepal this coming season then, read about some tips that will help you plan for your EBC trek.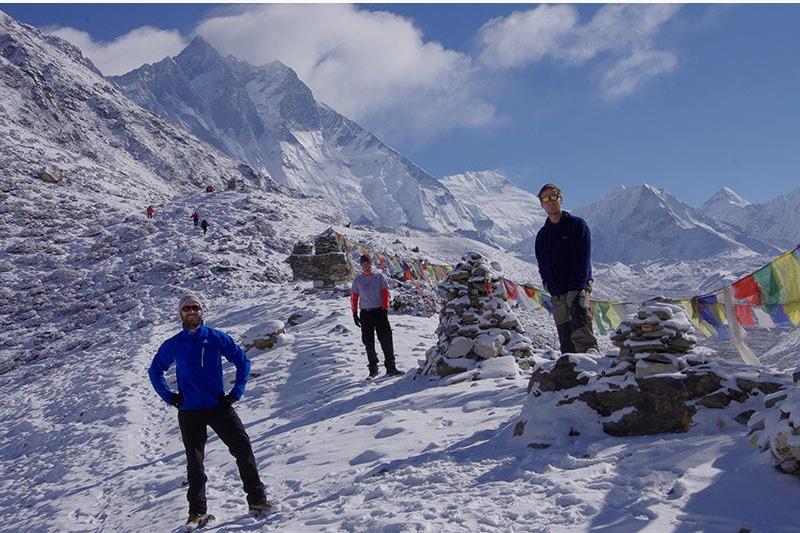 The peak season for Everest Base Camp trekking begins from the beginning of March to the end of May and September to the end of November. September and October is the season of the festival in Nepal and the end of monsoon. During this season the climate is so perfect. It offers almost guaranteed clear and shining weather in Nepal. Because of the perfect weather, The Everest Base Camp Trek Camp is more adventurous and fruitful in October. Everest Base Camp trekking is a lifetime experience that one should not miss. With the experienced team for Everest Base Camp trekking, we are always at your side to help you and design itineraries based on your ego, guide services, arranging permits all at affordable cost and price.
How long is the Everest Base Camp Trek?
The total distance covered throughout the Everest trek is approximately 130 kilometers round-trip and can be completed in 12 days. Out of 12 days, it takes 8 days to get to Everest Base Camp and 4 days to get back.
Start the trek from the side scene of Kathmandu, The city of temples, and the capital of Nepal. After then, you can board the flight for Lukla from Kathmandu to continue the further trek.

October is the season of festivals, and you will be fortunate to celebrate the greatest festival of Nepal with Nepalese people.

Get to know the unique culture of the red-cheeked Sherpas and the best chance to practice the typical Sherpas traditions.

 Visit popular Buddhist religious pilgrimages like Tengboche and Pangboche Monastery.

Trek to Kalapatthar to see the divine and the nearest view of the Great Mount Everest. The Khumbu Glacier and the Icefall are also some places that are notably famous in this area.

The trail after the exploration of Gokyo valley comes to meet the Everest base camp trail at Namche Bazar.

Witness the beauty of Mt Everest, The Sagarmatha conversation area, and the jaw-dropping panoramic view of the Himalayas.
How safe is the Everest Base Camp Trek?
Safety comes first when it comes to trekking to Himalayan regions. You should always have your day kit with you which must include first aid gear, sun hat and sunscreen, a fleece, water, rain protections, layers, and miscellaneous. The weather can switch within minutes from a sunny sky to a freak hailstorm. In the same way, it is better to take the advice of trekking companies and their guides. They have been selected based on their technical competence, proven safety performance, impeccable judgment, friendly attitude, and ability to provide useful and expert instructions. They are very professional and well trained in first aid and personal protection equipment.
If climbing Mount Everest is on your bucket list, please contact us, we would love to have you climb with us next season 2020. We offer affordable Everest Base Camp trekking packages with nature's perfect combination of alpine tundra forest, rocky trails, waterfalls, mountains, and many more.  
Everest base camp treks information for 2020,2021, guide potter hire for Everest base camp treks, Everest Base camp treks permit, Everest base camp flight cost, Everest base camp guide cost, Everest potter cost, Ebc treks, Everest treks, join a trip, Everest, single trip cost Everest base camp, treks to Everest, Everest base camp map, Everest base camp season, fixed trip Everest base camp, trek to in Nepal, base camp trek in Nepal, best season trek Everest, Everest base camp tour, Everest base camp itinerary, Everest base camp 2020,2021.